(SPONSORED STORY)
WORDS BY chris danforth
© HIGH SNOBIETY
Timberland, Epic Games' Unreal Engine and CONCEPTKICKS explore entirely new methods of product design with a new partnership that blends physical and digital like never before. The team behind the initiative explains the concept, which brings four Timberland Metaboots to Fortnite, and how it came to be.
Three weeks ago, the CONSTRUCT initiative invited a new roster of designers and innovators to a workshop at Timberland's in-house creator space and innovation lab, where invited creators had the opportunity to participate in a special project focusing on experimentation in both the physical and virtual realms. These guests included upcycling master Jaimus Tailor from Greater Goods, denim aficionados Everard Best aka Murder Bravado and Tela D'Amore from Who Decides War, self-taught shoe designer Aisha Kuijk, and concept artist Zixiong Wei.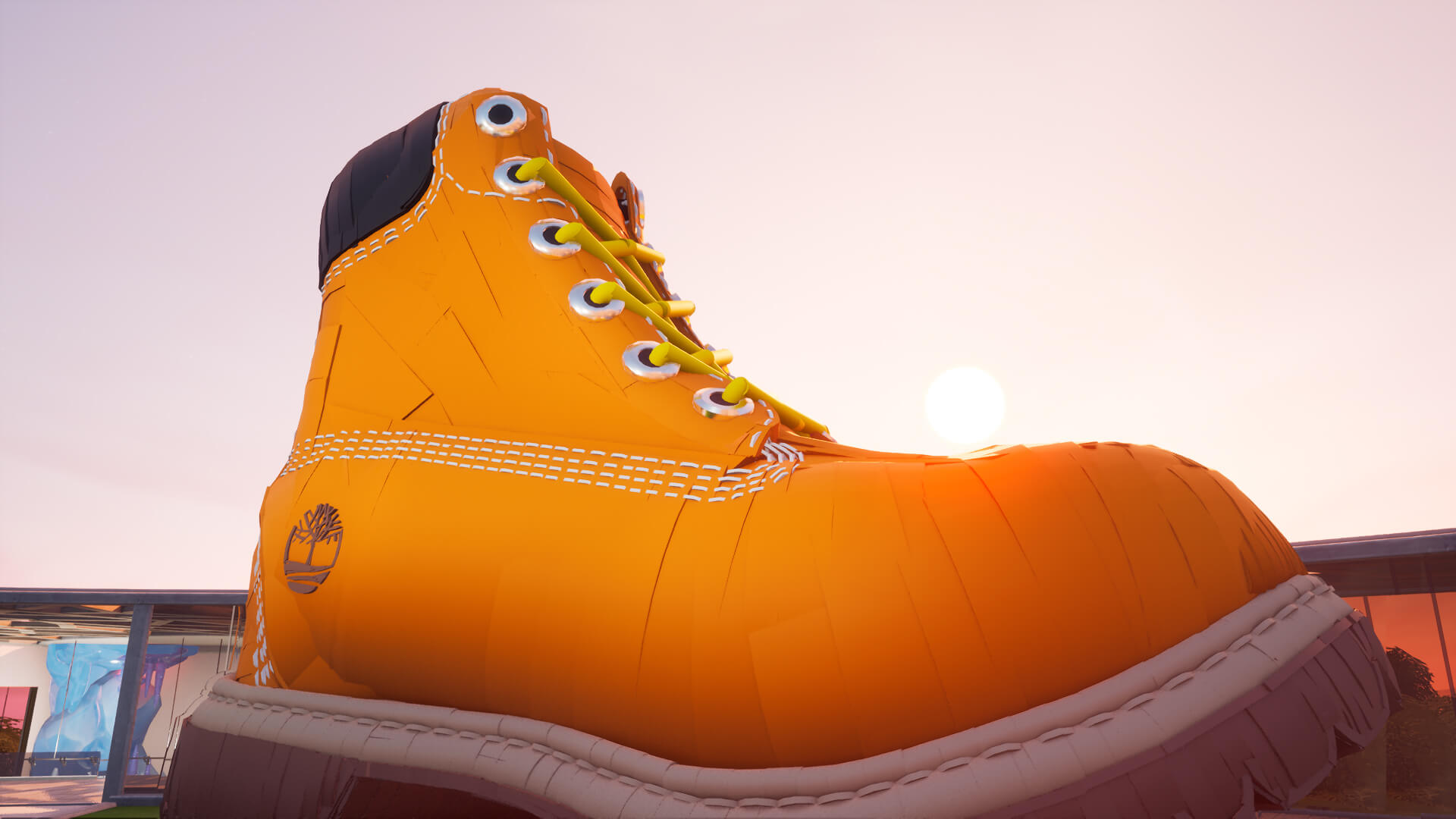 Working with Epic Games' Timberland and Unreal Engine, CONCEPTKICKS Creative Director Daniel Bailey is exploring new ways to mass-produce these purely conceptual footwear designs, but in a completely digital sense, and Fortnite fans can now visit the Timberland creation space, The Shed. , which has been recreated in the game. (To visit the Timberland Shed in Fortnite, enter this code: Parkour Trails 4313-0063-0736)
Not only that, but the partnership features four Fortnite Metaboots: a replica of the iconic 6-inch yellow boot, plus three concept designs inspired by outdoor biomes (forest, mountain, and desert) created as part of an island inspired by a Petri dish in Fortnite. Fortnite players can explore all three biomes and even collect Metaboots in each biome for special biome effects.
"The future of product creation and innovation is both physical and digital" – Drieke Leenknegt
Timberland CMO Drieke Leenknegt explains why the brand needs to embrace this thinking: "The future of product creation and innovation is both physical and digital. Who are we to say that physical boots are the only thing people want to see? Because we know that consumers want to interact with digital boots and Metaboots just as much as they do with physical boots. Therefore, exploring and driving startup innovation is non-negotiable."
"For the desert biome, we took inspiration from the shape of the sand dunes to create the lines of a boot"
To create the Metaboots, Bailey and the other designers worked closely with the game's creators to learn how to build custom items in the world of Fortnite. "It's pretty wild, they take objects in Fortnite and manipulate them to create new shapes. One of the creators of Fortnite, Macca, created elements of a helicopter using a toilet. Then the blades were made from something else, and so on. that's how we created these boots. For the desert biome, we looked at the shape of the sand dunes to create the lines of a boot. Or in the arctic biome, they looked at the shape of the icicles to tie them together to create some sort of structure that looks like the sole of a boot," he says.
Using what Bailey describes as "digital bricks" in the Fortnite backend, the Metaboots were created in this way, taking inspiration from each of the unique biomes. While it's not the way he's used to creating, Bailey confesses that the Fortnite backend is a lot of fun and he goes on to describe the Metaboots in a bit more detail. "In some of the boots, we've integrated more obvious natural design inspirations, while also adding hidden objects and the occasional jumping fish or rubber duck."
The Desert Biome Metaboot Boot is inspired by the folds of a cactus plant and the crested planes of sand dunes, the Desert Boot combines elements to create a multi-faceted concept that grows directly from its environment. The anti-gravity arctic boot was constructed from frozen sculptures that were manipulated to create its spiked sole unit and snow-covered upper. Lastly, the Metaboot forest is part boot, part tree; it has been engraved in stone and combined with forage elements from both flora and fauna.
"At some point, you won't even know what started digitally, what started physically, where did it start? Who knows?" -Daniel Bailey
The Forest Metaboot was also recreated in high fidelity using Epic's Unreal Engine, and is visible in augmented reality and on the web through the Sketchfab 3D modeling platform. Reimagining the Metaboot Forest in Unreal Engine 5, Epic's next-generation 3D creation tool, introduces an unprecedented level of richness and incredible detail in the immersive CONSTRUCT experience, where photorealistic visuals seamlessly blend with the real world. through the AR overlay. Metaboot augmented reality versions and physical prototypes give anyone with an internet connection access to not only the forest biome in the Fortnite Parkour Trails experience, but real-world CONSTRUCT boots as well.
The digital-physical dichotomy is one of the cornerstones of the association. In the future, not only could concept boots from the CONSTRUCT project make their way into Fortnite and other Unreal Engine-powered experiences, but some digital objects from these virtual spaces could also manifest in the real world. Says Bailey, "At some point, it's going to get so nuanced that you won't even know what initially started out as a digital or physical concept."
Raffaella Camera, brand director for Epic Games' Unreal Engine, feels that younger generations distinguish between the physical and the virtual, but that doesn't mean digital products aren't real to them. As consumers develop a greater appetite for digital products, our perception of what is real begins to change. The camera notes: "We are seeing players who are also consumers who want to imitate and want to dress in the physical world, the way they look in virtual worlds. So the two things are intersecting. And that's why it's a new world that's made up of both."
But how exactly are the four Metaboots acquired? The mechanism is a variation of the Fortnite Deathrun maps. "These races take you through the environments; you can unlock the assets of each shoe and take them back to The Shed. So you have to finish each of these runs to get the final assets of each boot and access the special effects."
On their quest to collect Metaboots, Fortnite players must watch out for the cunning Mr. Bailey, who uses digital Timbs. "You can catch me there," he hints.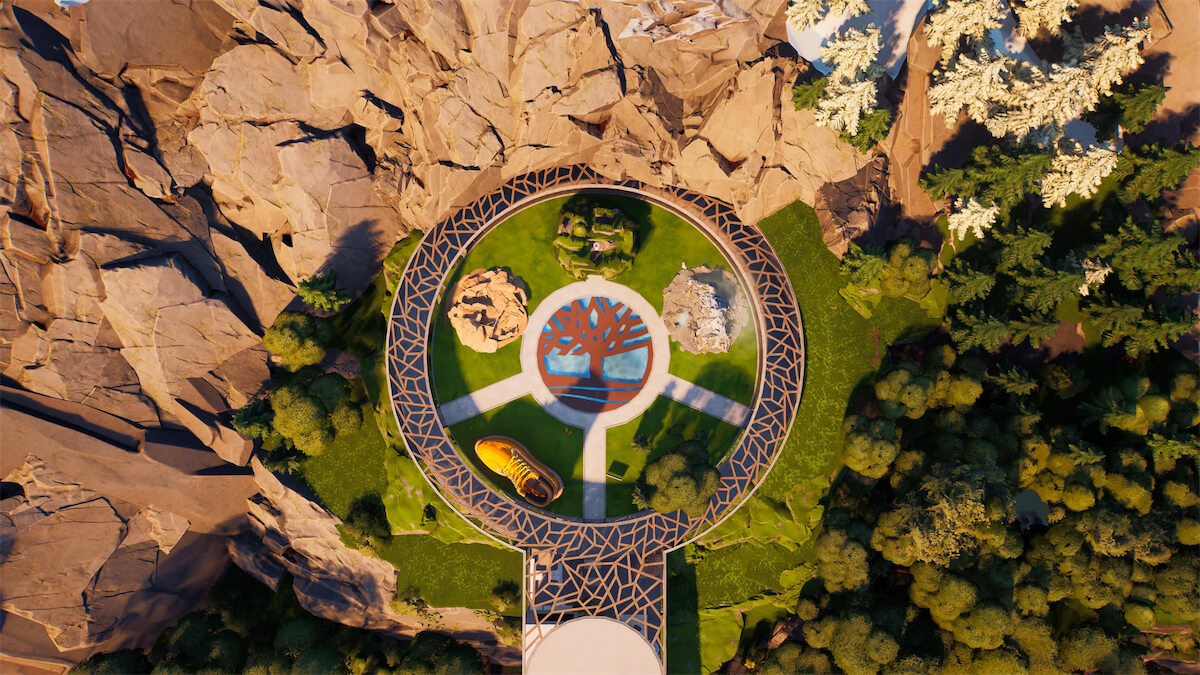 To visit the Timberland Shed in Fortnite, enter this code: Parkour Trails 4313-0063-0736