Minecraft remains a mainstay in the gaming world, with its incredible multiplayer and unique block placement formula that truly stands the test of time. As May progresses, the content available to Minecraft Realms Plus subscribers has changed, adding a host of new worlds, mini-games, texture packs, and more to the service, completely free of charge.
Related: Minecraft: How to Cancel Your Realms Plus Subscription
A wide variety of skins for your character are included in this update. Created by Mojang and independent artists alike, these skins span different genres and influences, ensuring you have a stylish look no matter the situation. While these would normally cost Minecoins, Realms Plus subscribers get them for free. Here are some of the best new skin packs to explore.
10

Googly Eyes by Podcrash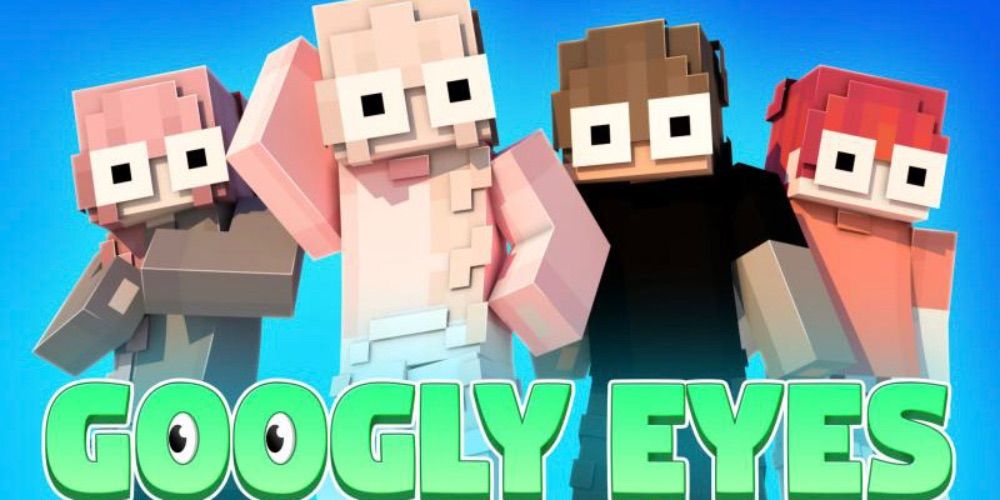 Download Podcrash's Googly Eyes Pack
Starting our list is this simple and hilarious Podcrash skin pack. Googly Eyes delivers exactly what it promises in the title: each skin has absolutely huge eyes that are sure to make both your friends and passersby laugh.
In addition to their humorous approach, the masks themselves have some pretty smart casual wear, with a wide variety of hoodies, jumpsuits, and flannels available. Elijah's skin is a particularly stylish example. If you're looking for something that combines wholesome fun with modern style, this bundle may be the one for you.
9

SCP Monsters by RareLoot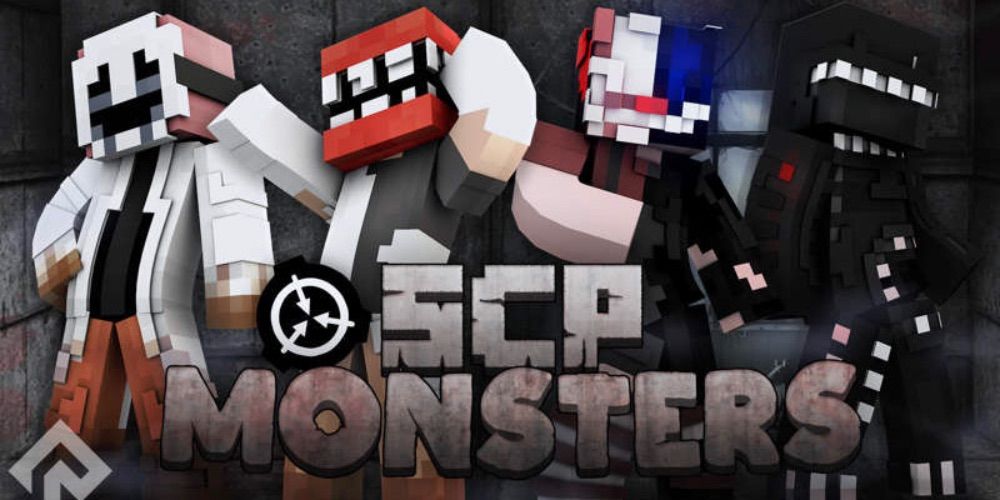 Download the SCP Monsters pack from RareLoot or search for "SCP Monsters" in the Minecraft Marketplace.
This RareLoot Minecraft skin pack brings a selection of these mysteries to life in the world of Minecraft, letting you roam your world as an enigmatic SCP. Deep in the Internet lies a mysterious website titled the SCP Foundation. Collected among his fan-created government files are reports of various unexplained anomalies, many of which reek of mystery and horror.
Some standouts in this pack are Plague Doctor and Chomper, both of which have multi-layered heads that make each skin that much more detailed and creepy.
8

Nebula HD by LinsCraft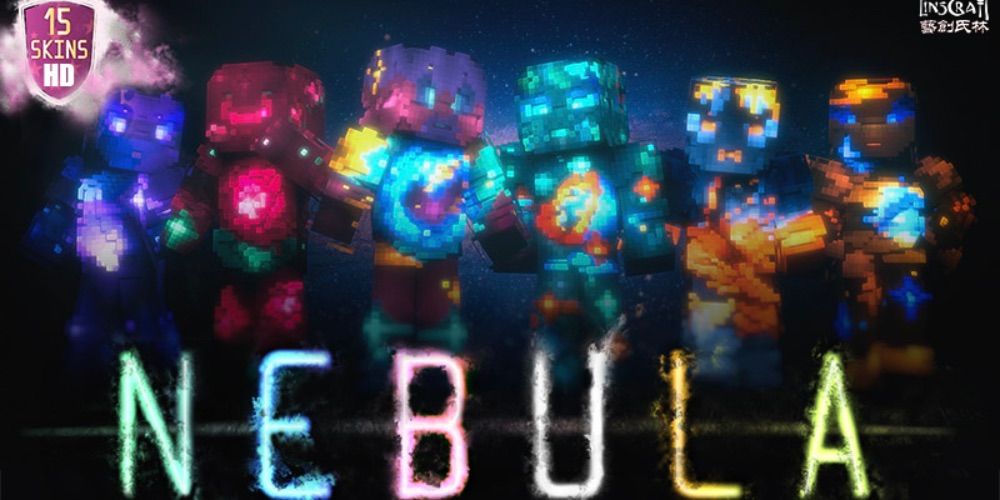 Download LinsCraft Nebula HD Pack or search for "Nebula HD" in the Minecraft Marketplace.
Not all Minecraft skins have to be rooted in reality. Created by LinsCraft, Nebula HD is a fascinating pack that takes your character to the stars and beyond. Each skin is an astral collage of different colors, all swirled to resemble the shifting tides of the galaxies.
Related: Minecraft: Best Worlds Free with Realms Plus
Polar Nebula and Violet Nebula have particularly striking color combinations. However, despite their abstract nature, they all resemble humanoid figures, giving your character the appearance of a powerful cosmic being. This pack is sure to wow your friends and stumped creepers across the galaxy.
7

Waypoint Studios Spring Floral Fashion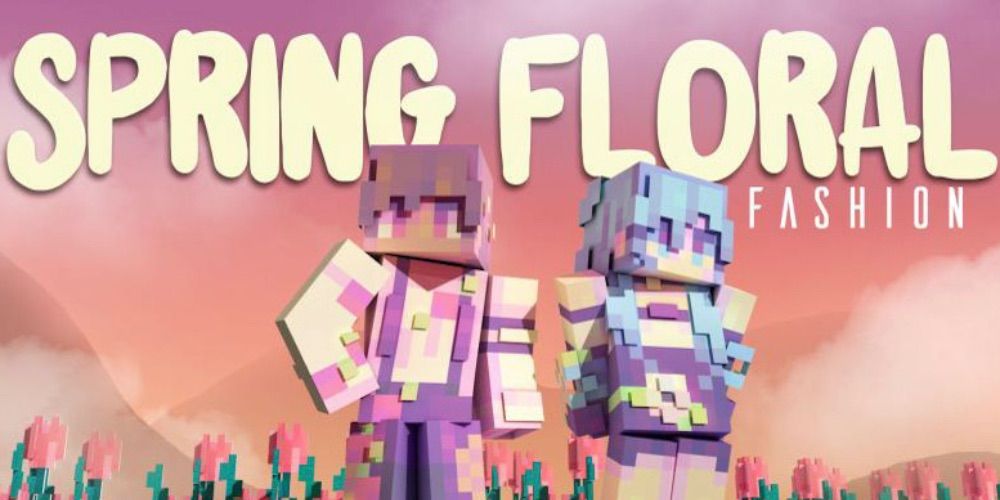 Download Waypoint Studios Spring Floral Fashion Pack or search for "Spring Floral Fashion" in the Minecraft Marketplace.
Waypoint Studios' Spring Floral Skin Pack is perfect for any time of year. With a strong focus on pastel color palettes, each skin brings something new to the table, or in this case, the garden. Most are based on different types of flowers, resulting in a wide variety of colors and styles to choose from.
The Raspberry Poppy skin has a cool two-tone pink shirt paired with jeans, while Nightshade's dark grays and blacks help it stand out from the rest of the outfit. Because of its cute style and always pleasing colors, the Spring Floral pack is great to see this spring and for many more to come.
6

Anime Ninjas by RareLoot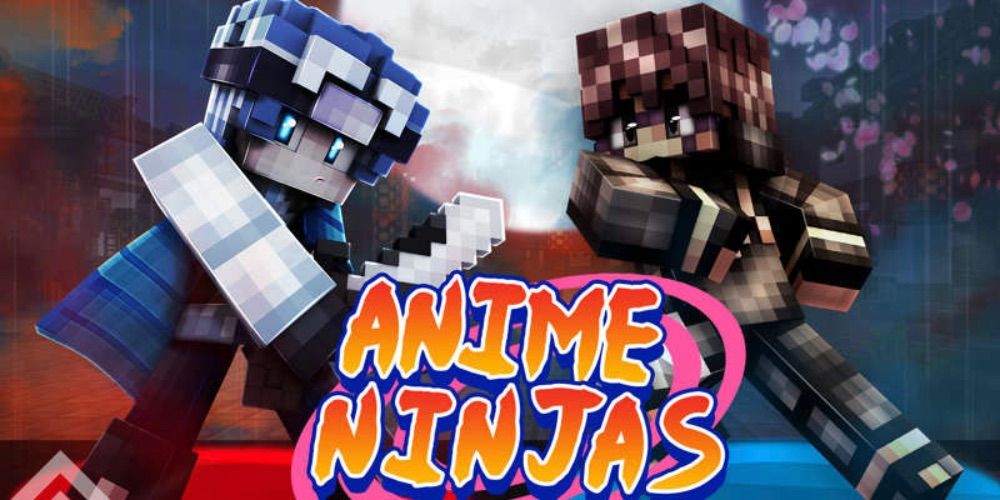 Download Rareloot Anime Ninjas Pack or search for "Anime Ninjas" in the Minecraft Marketplace.
Utilizing stealth, precision, and skill, there is no doubt that ninjas are unequivocally great. Minecraft is a game that's all about playing it your way, and if you've ever wanted to replicate the stealthy prowess of ninjas in your own world, the Anime Ninjas skin pack may pique your interest.
With original skins and some apparently inspired by Naruto, there is no shortage of options to choose from. Ryuzaki's orange-masked skin is sure to strike fear into the hearts of your enemies, while she's also looking cool in the process.
5

Pickaxe Studios Animal Plush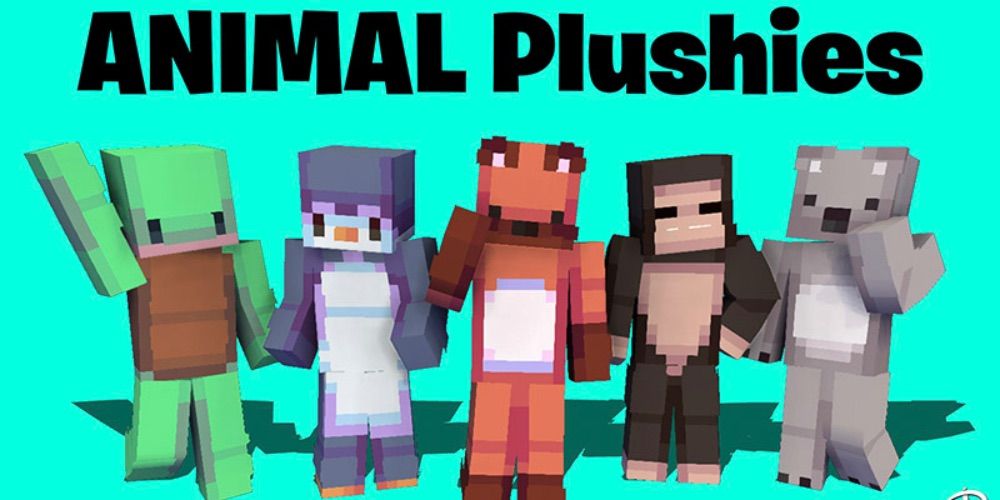 Download the Animal Plushies Pack from Pickaxe Studios or search for "Stuffed Animals" in the Minecraft Marketplace.
Part of what makes Minecraft so much fun is the creatures themselves, and with the Animal Plushies skin pack, you can embody these creatures in cute plush style.
Whether they're in the wild or tamed for a farm, these super cute animals that roam the world are an integral part of the experience. As the game has evolved, more and more have been added to the game, with unique animals like pandas, foxes, and turtles becoming common. With ten different animals to choose from, you'll never run out of adorable options to transform your character into.
4

Between Boys by CanadaWebDeveloper
Download the Among Guys package from CanadaWebDeveloper or search for "Between Boys" in the Minecraft Marketplace.
This next pack is anything but its. Showing clear inspiration from both the Among Us and Fall Guys games, CanadaWebDeveloper's Among Guys Skin Pack is packed with skins from both series, making it a great two-for-one deal.
Related: Minecraft: Best Multiplayer Servers
Among Us themed looks have a crewmate for each color present in the game, as well as all-black and rainbow skin. Fall Guys skins don't disappoint either. You can strut your stuff in a chicken suit, a dinosaur costume, a color-change hoodie, and much more. No matter which game you prefer, you're sure to find something you'll love in this solid combo pack.
3

Pretty in Pink by NovaEGG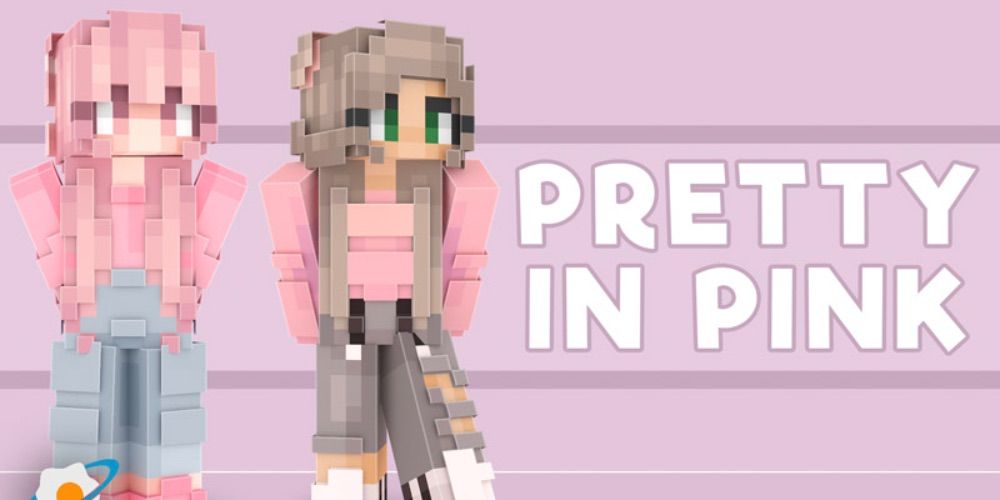 Download NovaEGG's Pretty in Pink Pack or search for "Pretty in Pink" in the Minecraft Marketplace.
While a variety of colors can be great, sometimes focusing on just one can be amazing. NovaEGG's Pretty in Pink Pack does just that, exploring the vast possibilities of pink through 12 different Minecraft skins. With outfits ranging from ripped jeans and floral crowns to snapbacks and flannels, the options are limitless.
George's skin is fantastic among many, with his racing pinstripe jacket and pink sunglasses oozing freshness. Regardless of the occasion, these pink masks are sure to keep you in style.
two

Razzleberries Animatronics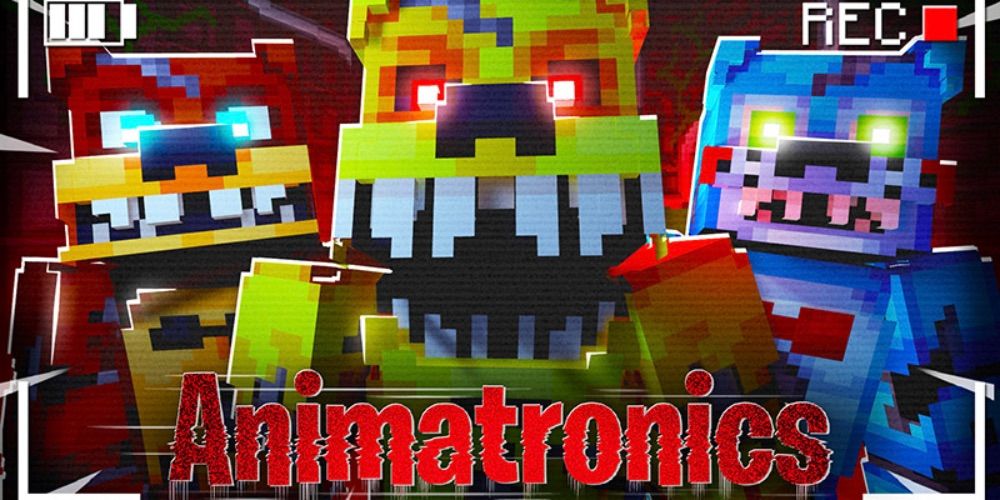 Download the Razzleberries Animatronics Pack or search for "Animatronics" in the Minecraft Marketplace.
Keep your flashlight on and don't forget to check the security camera, because the Razzleberries Animatronics Mask Pack horrors are hungry for more than just pizza. Bearing a striking resemblance to characters from the Five Nights at Freddy's horror game series, the pack comes with a plethora of different animatronics that are sure to scare hostile mobs into submission.
If you're into something more laid back, the Night Shift Guard George and Grace skins are a cute change of pace, while also being a nod to the devilish Purple Guy.
one

Players by Polymaps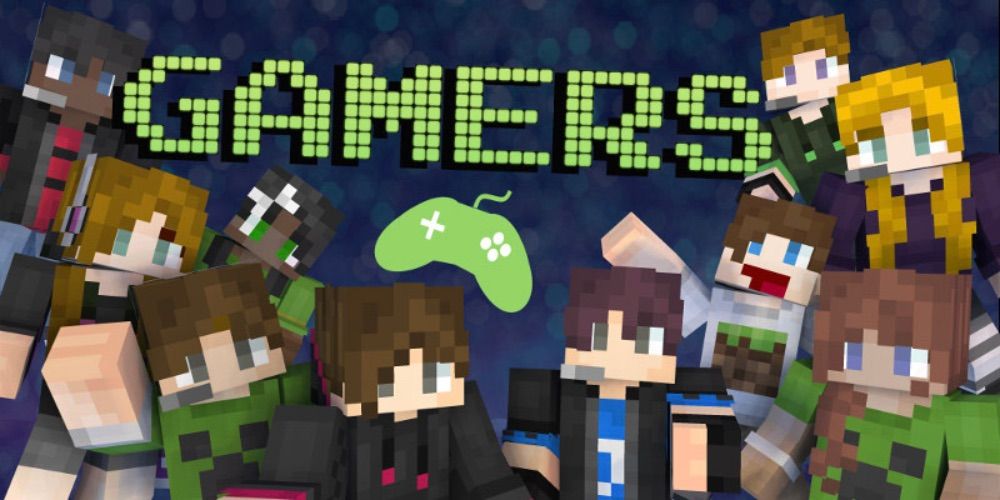 Download the Polymaps Gamers Pack or just search for "Players" in the Minecraft Marketplace.
Rounding out this list is a Polymaps skin pack that is perfect for anyone who loves video games, as the Gamers skin pack is all about you, the gamer. Each skin is themed around players' different playstyles, and the outfits are reflections of these various archetypes.
For example, Clutch's skin is armed with fingerless gloves and headphones to ensure victory, while Shadow's all-black outfit shows they mean business. No matter how you enjoy your games, this skin pack is sure to have something that will enhance your Minecraft style.
Next: Quick tips to improve your Minecraft builds
It's okay to show your love for the Star Wars prequels
read next
About the Author