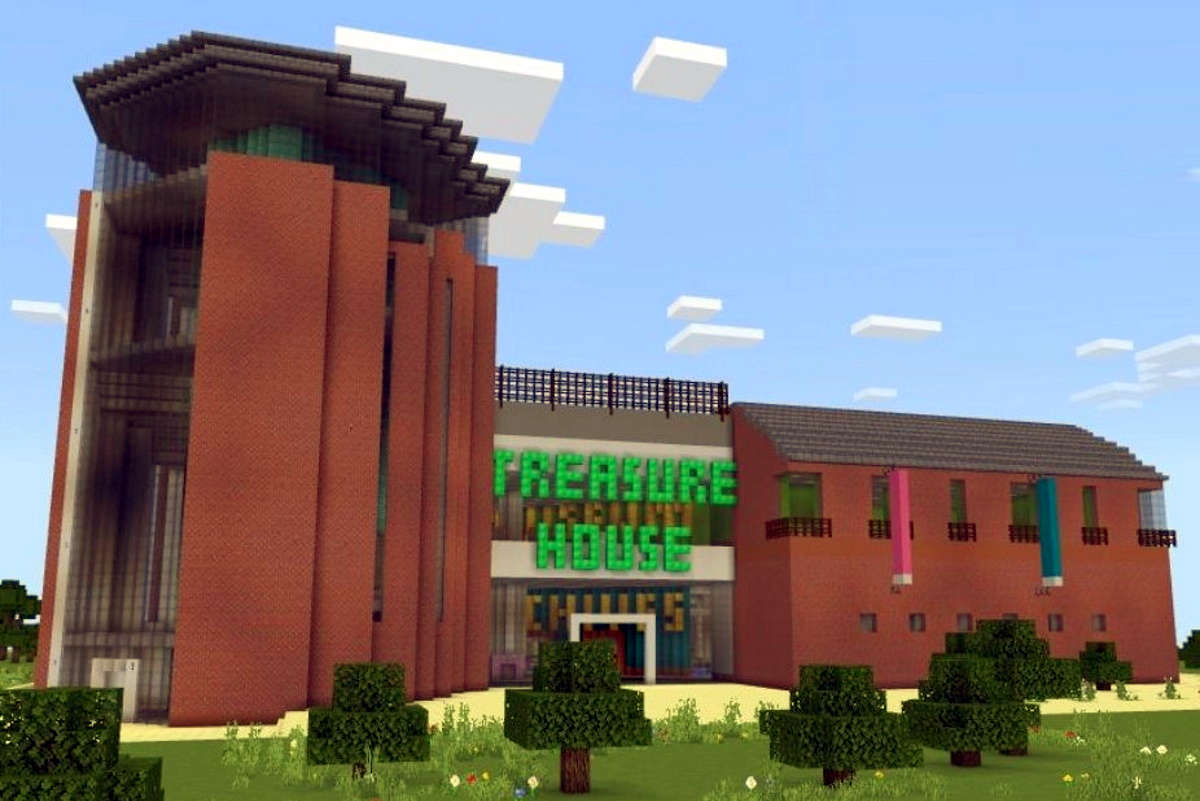 East Riding Archives is celebrating the success of its innovative Blockdown project, designed to collect young people's experiences of the COVID-19 lockdown using the video game Minecraft as a creative medium and storytelling platform.
Touted as the first archives project of its kind in the country, the East Riding Blockdown (ERB) project launched in January, after receiving a £4,500 grant from The Audience Agency, as part of its Digitally Democratizing Archives project.
East Riding Blockdown created an Archiverse world, a virtual recreation of the Treasure House in Beverley in Minecraft. Participants digitally constructed or wrote about their experiences, and archivist Hannah Stamp then went into the Archiverse and 'archived' her creations in the real-world East Riding Archives.
Participants could explore the virtual Treasure House, meet the team and see what other young people had created.
Archivist Hannah Stamp explains:
"The ERB project was an offshoot of the larger East Riding Archives covid-19 experiences project, in which we asked East Riding communities to donate their recorded experiences of the pandemic and lockdown to the archives. Those records will be kept permanently in the collections, as part of the East Riding's more than 800 years of documented history. One thing missing from what the archives team received was the voice of youth!"
East Riding Blockdown engaged with more than 60 young people between the ages of 5 and 15, with an average age of eight. He created an online Minecraft world called Archiverse, the central learning and engagement space for young people to make their creations.
The project consisted of Archiver Minecraft in-person events at the Bridlington Library, the East Riding Archives at Treasure House, and the Beverley Library (with the Teen Reading Group). It also included a school workshop at Springhead Elementary School in Anlaby.
Ultimately, he has created an archival collection of the youth's lockdown experiences that will be kept permanently in the archives.
Audience Agency funded ten projects across England, with the aim of connecting underrepresented communities with archives using digital technology.
Councilor Mike Medini, Minister for Culture, Leisure, Libraries and Customer Service, said:
"The legacy of this brilliant and unique project is a collection of the youth's lockdown experiences in the archives, preserved for future generations to enjoy and learn from. It will inspire young people and encourage their curiosity about archives; after all, they are our future users of the service!"
The project is not finished yet; youth can still participate in the project by attending an Archiverse Minecraft event or by submitting their lockdown creations along with a completed registration form (which can be downloaded from the project's website). There are events next week during the October semester at Treasure House in Beverley on October 24 and 27. Reserve a time slot now at https://eastridingblockdown.org/whats-on/
Added Hannah's Seal:
"We are now experimenting with our Oculus virtual reality headset and the Sketchfab 3D platform https://sketchfab.com/EastRidingArchives to find creative ways to interact with the 3D creations that participants built in our Archiverse.

"In partnership with the East Riding Museums and the council's policy team, we are also looking to bring our Archiving workshop to local schools working with traveler, immigrant and refugee communities, exploring various lived experiences and archiving them as the first phase of the project."
Visit the East Riding Blockdown website: www.eastridingblockdown.org