Free agency is starting to reach a boiling point in the Call of Duty League. After the deadline to extend team options on 1+1 contracts passed on Aug. 14, players began tweeting that they were free agents. These free agents can sign new contracts with a team beginning August 22, so that's when the rostermania will really kick off.
Right now, players and teams are trying to figure out their best course of action for the 2023 season and beyond, depending on what free agents/buy potential players are on the market. However, there are also players who have been subject to a Game Release Extension, which has introduced a new element in the off-season.
The term "Game Launch Extension" began to gain traction when the 2023 CDL status of certain players was announced. At this time, there are four players who have officially received the Game Launch Extension tag for the 2023 season. Those players include Cameron "Cammy" McKilligan, Thomas "Scrappy" Ernst, Charlie "Hicksy" Hicks (Toronto Ultra), and Anthony "Methodz" Zinni (Boston Breach). There could be other players who received this specific extension, but they are currently unknown.
If you're wondering what a game launch extension is, then you're not alone. Fans have been confused about what that means for a player/team ever since rostermania began. Essentially, if a player has been Game Launch Extended, the organization can keep them under contract for up to two weeks after the next Call of Duty game release.
So in this year's case, players who have Game Launch Extended can keep their contract with their current team two weeks after Modern Warfare 2 launches on October 28. The full description of Game Launch Extension on CDL can be seen below.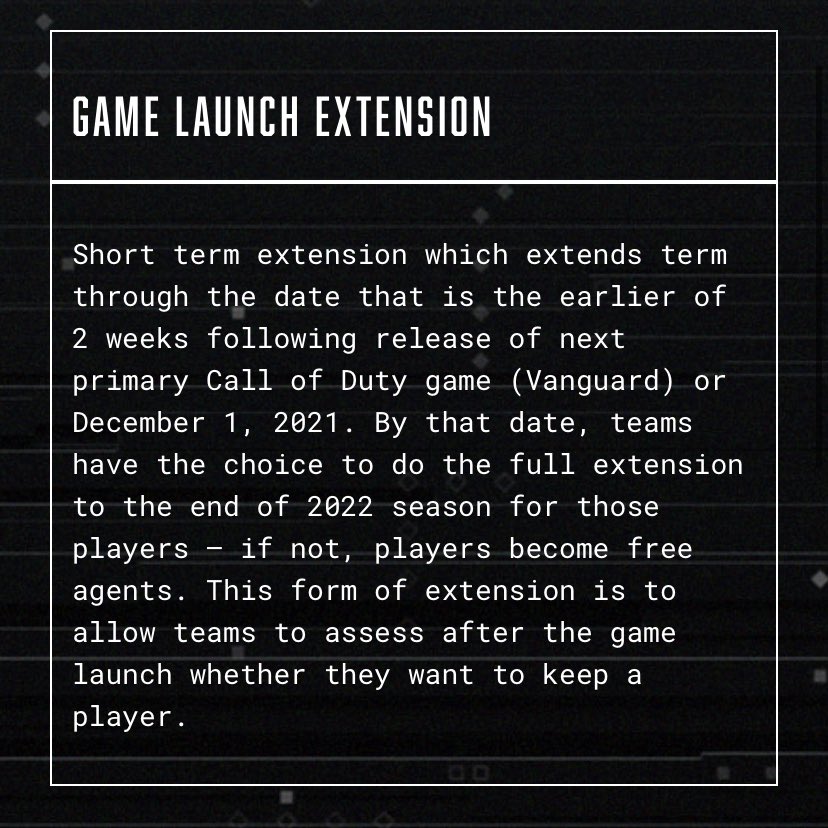 What this type of extension does is allow teams to keep a player based on how he performs during the first two weeks of a game. If they perform up to the team's standards, then the team can extend them for the entire year. However, if the player does not meet expectations, the team can make the player a free agent after two weeks in the current game.
While this might make sense on paper, it seems much more advantageous to the organization than to the player. Essentially, what this does is allow teams to prevent a player from becoming a free agent when rostermania kicks off in August. Teams can then wait and see how free agency plays out and then decide what to do with the player that Game Launch Extended.
For example, Boston Breach, which extended Methodz using this tactic, may try to find a replacement for him during free agency this year. If they do, they'll probably release Methodz. However, if they can't, they would extend Methodz for another year. While this works for the organization, the player is left in a situation where they cannot control their own future. If a team decides to release a player after two weeks have passed from a game's release date, then that player might find it very difficult to sign with another team since free agency has basically passed.
Minnesota ROKKR COO Brett Diamond said his team has never used Game Launch Extension. Nevertheless, Diamond said the intention behind it was to see how well a player performed in a certain game before deciding on his future. Of course, teams can take advantage of this in the ways we just explained.
We've never used it, but yes, that was the original intent.

— Brett Diamante (@Diamond_Sota) August 15, 2022
It's unclear what teams plan to do this year with Game Launch Extensions. However, Methodz and the three Toronto Ultra players could find themselves in a bind down the road if things don't work out in their favor after the release of Modern Warfare 2.